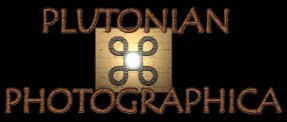 This gallery features a selection of Plutonian Shore photos and related artistic renderings. It lies just across the Styx. For passage, click the image link above. The Ferryman awaits!

This expansive gallery is the photo archive of The Macabre Files Of Dr. Mordred, a special webzine devoted to Sci-Fi, Horror and Fantasy films and books. The Vault is dedicated to providing access to pictures from Sci-Fi, Horror and Fantasy films and T.V. shows (many of which are rare). To open the Vault, click the image link above, while you can!

This gallery is devoted to pictures from the original `70's Kung Fu and Kung Fu: The Legend Continues television series. The Kung Fu Foto Page also includes photos from various films featuring David Carradine and other related material. Many of the pictures featured are rare and/or behind-the-scenes photos. Fans and enthusiasts of Kung Fu, Kung Fu: T.L.C., David Carradine and kung-fu, the art will enjoy this special gallery that's packed with over 400 photos! It's just a click on the image link above away!