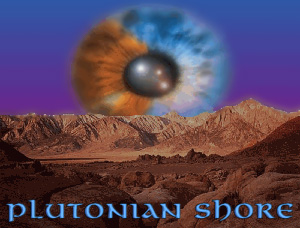 Originally formed in 1996 by composers Sean Mulligan and Michael Dawson, Plutonian Shore incorporates a variety of diverse musical styles, textures, and rhythms ideal for the film score medium.
Since its founding, Plutonian Shore has scored several independent film and video projects, in addition to producing many works, including a string of Limited Series Promos, Special Edition Promos, and the full-length commercial release Arcana. Released in June of 1998, Arcana received critical acclaim and continues to sell, retaining a 4 ½ star review rating (out of a possible 5 stars) on Amazon.com. For Arcana, Sean and Michael gave their imaginations full reign, unleashing musical forces of considerable dramatic power and texture, grandly deploying deep atmospheres, exotic sounds, rich melodies, and massive blocks of dense orchestral color. The album was produced at Dark Tower, and was specially selected to be featured in the Roland VS Users Music Showcase, a unique, joint Internet promotion launched by Roland Corporation U.S. and Liquid Audio in 1999.
Plutonian Shore scored the music to the independently-produced feature film thriller Scarecrow's Dream starring John Bourgeois, Ho Chow, Al Leong and Victoria Snow. A Special Edition album of the film score was also produced, while the film's Post-Production and DVD Authoring was completed at Dark Tower.

In May of 2000, Plutonian Shore was called upon by Roland Corporation to appear in The EM Guide To The Roland VS-880 - Tools For New Times. Published by EM Books and distributed by the Hal Leonard Corporation, the book features Plutonian Shore sharing recording experiences and tips about Roland's popular VS-series of Digital Studio Workstations.
The versatility and dramatic instincts of Plutonian Shore are defined by the creative entity's ability to exploit many different moods for as many different scenes: exotic and ancient music; progressive rock and electronic music; beautiful pastorales; and rugged, pulsating action music. Plutonian Shore is perhaps best known for creating music that explores the subtleties of the human mind, as well as the fantastic and far-out.
For more about Michael and Sean, be sure to read their biographies by clicking on the scarab links below.